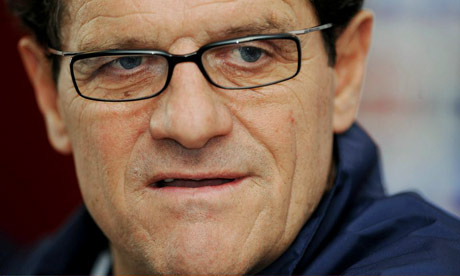 Fabio
Capello
has brought a swagger to
Wembley
in his time as manager for England. Not only are they on pace to qualify with ease for the South Africa 2010, but they are doing so with pizazz.
Gone are the days when
Beckham
was centerfold of the squad, now a days its more a of collaboration of young and old that has given the Three Lions their personality. Gerrard and
Lampard's
competition
for time in the midfield has provided each with more momentum, and the play of younger players like Theo
Walcott
, Aaron Lennon, and Ashley Young have brought the pace for England.
Unlike the struggles during the Euro '08 qualification process, the ability to score goals has not been an issue has they have achieved a goal differential of +11 in four games of qualification. Saturday's friendly with Slovenia brought another offensive attack, cruising to a 4-0 win in preparation of next week's qualifier with the Ukraine.
If their defending can stay solid with the likes of Chelsea stars John Terry and Ashley Cole, the Queen's men will be poised to possibly sweep the qualifiers and will not face a true test until quite possibly next June.
Complacency
has been a thorn in the sides of the English in the past, if they can manage and keep their momentum, they just may be able to make noise in 14 months.
Photo: The Guardian