Jake
Delhomme
showed up to Saturday night's NFC Divisional game against the Arizona Cardinals a year older, and would leave with a birthday gift he wasn't expecting, a long, premature vacation. Despite the year being only a sliver more than a week old, the Cajun signal caller quite possibly could have turned in the worst individual performance of 2009.
His horrific first half in which he threw two interceptions, and fumbled, could only be matched by yet another 3 turnover half of his in the second half. But it was his performance, or lack there of in the first half that would essentially allow the Cardinals to fly into the NFC Championship Game.
Delhomme's
first quarter fumble immediately followed a brilliant Cardinals TD drive, enabling the Cinderella-desert-birds to get 14 points on the board in 56 seconds, and capturing the momentum for the rest of the game.
Delhomme's
line, 17 of 34, 205 yards with a lone score and an eye-popping handful of interceptions, did not even justify the funk that Jake displayed. His passes wobbled, fluttered, and soared right into the direction of the white jerseys of Arizona on almost every play. Steve Smith,
Delhomme's
savior on the perimeter, was shut out until the 3rd quarter's final minute and never allowed him to settle down. His pass to
Mushin
Muhammad on a fourth down try in the second quarter sailed over Moose's head in an apparent mix up with the former Bears
receiver
, and was a prime example at the lack of confidence
Delhomme
had all night long.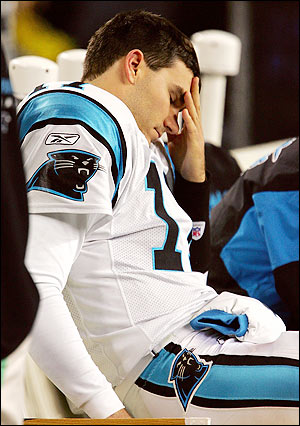 Unlike Carolina's John Fox, Arizona head coach Ken
Whisenhunt
refused to gamble on 4 & inches in the red zone during the second quarter, a move that was canonized following another
Delhomme
interception moments later, setting up another Cardinals touchdown on a 29 yard TD strike between All-Pros Kurt Warner and Larry Fitzgerald. Warner's ability to carve up the Carolina secondary following the birthday gifts of Jake
Delhomme
was uncanny, and he once again, ironically, proved to be the
NFL's
version of a rising Phoenix, given his near MVP campaign, muting talks of Warner's aging rust. Iowa's comeback kid led the Cards with a 199 yard first half through the air, taking off the pressue of rookie runner Tim Hightower, letting the Cardinals stay with a balanced attack throughout much of the game. That is what winning quarterbacks are paid to do, consolidate mental pressure, and lead their teams by example, yet allowing others to shine, a role that Delhomme fell miles short of Saturday night. Although Carolina's running game rivals only those in Minnesota and Tennessee, Delhomme's irratic arm forced them to pass to try to get back into the game, thus allowing the Cardinals to surprisingly outrush the Panthers by 70 yards. Coming into the game the Panthers featured a rushing attack that averaged nearly 200 yards per game.
"For one reason or another, I didn't give us a chance tonight," admitted the 31 year old quarterback. His failures could lead to a revamping of the Panther offense. The aging quarterback is clearly the weak link in their attack, and an improvement under center could only boost an offense who's young core includes rookie Jonathan Stewart, and NCAA's all-time leading rusher DeAngelo Williams, not to mention the aforementioned prerennial All-Pro wideout Steve Smith. Arms like McNabb and Cassel could still hit the market this spring, and for Jake Delhomme, a poor performance in crunch time could end his superhero-status in the Queen City.
Photo: Swamp Land